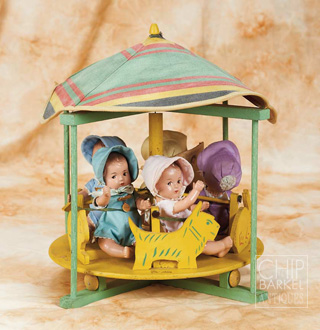 Name: Dionne Quintuplets: Annette, Marie, Cecile, Emilie and Yvonne

Maker: Alexander Doll Co.

Size: 8"

Medium: composition

Date: 1935

Description: Carousel awning h. 8" dolls. Each of five composition dolls has swivel head, jointed limbs, painted short brown curly hair and facial features, and is wearing its original pique pastel romper suit and bonnet, with brass name tags. The dolls are presented in their original wooden carousel with wonderful seats in the shapes of bunny, duck, squirrel, dog and cat, and the original striped canvas awning is atop the carousel. Circa 1935, Alexander.
Marks:
head: Alexander
clothes: Dionne Quintuplets, Madame Alexander

Condition: Excellent

Price:



Shipping: $50